Duct Cleaning
LET US HELP YOU KEEP YOUR KITCHEN'S AIRWAYS CLEAR
All Suburbs Filter Service is Queensland's largest kitchen filter cleaning and canopy cleaning service. We are family owned and operated and have provided a quality and consistent service to our customers for over 25 years.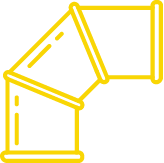 Why you need a duct clean
The air inside your business should be kept safe and clean through the effective maintenance of your kitchen's ducts, exhaust fans and ventilation system which extracts dust, grease, debris and other pollutants.
Benefits of a professional duct clean
LANDLORD REQUIREMENTS
Ensure your ducting systems meet landlord requirements.
INSURANCE AND OH&S
Compliance with Insurance Policy requirements, Australian Standards and WH&S requirements.
EFFICIENCY
It plays a primary role in role of your exhaust system by ensuring that the system filters the air effectively.
CLEANLINESS
There are often hard to reach areas in the exhaust system that can only be carried out by experienced professionals who can undertake comprehensive maintenance.
HEALTH AND SAFETY
Prevents indoor air contamination.
FIRE RISK
Reduces and minimises fire risk
LASTING EQUIPMENT
Better maintains your equipment and extends your product's life span
Certificates of Compliance
ASFS can provide Certificates of Compliance to meet your landlord or council requirements.

Get a duct clean quote today
Throughout their detailed clean of your ducts and ducting systems, our qualified team will use specialised equipment to help you eliminate any dust, debris, build-ups of grease and other deposits so that you can feel rest assured that your kitchen is air containment free.